Originally formed in 2017, Stevington Writers is a Creative Writing Group whose aim is to encourage local aspiring writers, of all ages, to develop ideas into published work. We are also affiliated with the National Writing Project.
---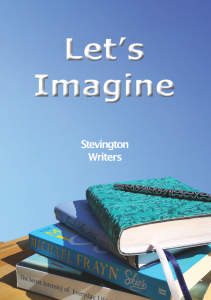 In 2020 we published an anthology of our work under the title of Let's Imagine. It was very fulfilling and extremely popular. Our initial print run sold out within a few weeks, raising over £300 for Bedford Foodbank in the process.
A decision on whether to commission a further print run, or offer the publication as an e-book, is currently under consideration. If you'd like to be kept informed on future purchasing options, you can register your interest here.
Stevington Writers